Traficop Speed Cushions
Traficop Speed Cushions offer the ultimate in design versatility with its preformed construction providing consistent profiles and dimensions, available in both 65mm and 75mm heights
Traffic Calming
Traficop Speed Cushions
Our Traficop Speed Cushions are made from recycled rubber and feature a modular design. Surface mounted, our bolt down Traficop Speed Cushions are durable, easy-to-install and require no excavation or adhesive.

An effective traffic calming measure, we can adapt our speed cushions to suit, with high visibility reflective markings moulded in at the time of manufacture.
Originally developed with a height of 75mm high conforming with DfT recommendations. The 65mm high was later introduced and is increasingly used in the UK as the shallower side gradient is more acceptable to emergency services and bus operators. It also reduces the risk of vehicles grounding on severe cambers. 
Proven
Patented design with 30,000 supplied worldwide.
Convenient
Quick to install and can be immediately trafficked
Surface Mounted
Bolt down with no excavation and no spoil.
Fewer parts
Surface units conform to almost any road camber, but new modules are now longer which means fewer parts, making cushions easier and quicker to install.
Tougher design
Corners now have a 50mm radius and an extra fixing in each module, making the corners more secure.
Any width
Cushions can be adapted to suit various widths making it easy to achieve the required results
Reflective markings
Moulded-in at manufacture and different styles (arrows, RVV and others) can be provided.
Environment
Made from recycled rubber in the UK.
Product meets DfT specifications.
Traficop Speed Cushions
Technical Information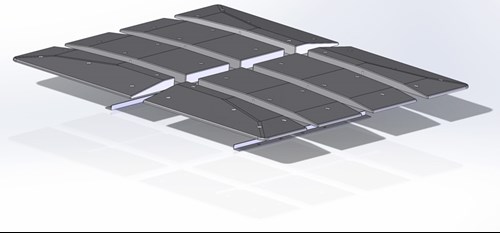 | | |
| --- | --- |
| Cushion Width | Cushion Length |
| 1600mm | 2000mm |
| 1600mm | 3000mm |
| 1700mm | 2000mm |
| 1700mm | 3000mm |
| 1800mm | 2000mm |
| 1800mm | 3000mm |
| 1900mm | 2000mm |
| 1900mm | 3000mm |
Available in heights of 75mm and 65mm. Compared to the Traficop 75mm cushion, apart from being lower, the 65mm has a shallower side gradient at 1 in 5. The ramp gradient is 1 in 10.
Product meets DfT specifications.
Frequently asked questions
Can't find the answer you're looking for? Reach out to our customer support team
How many cushions can you get on a pallet?
3 per pallet for Short cushions (2.0m long) 2 per pallet for Long  cushions (3.0m long).
Traficop Speed Cushion Case Studies
Read more about how our clients have used Traficop Speed Cushions
Method Statement
Download our Traficop Speed Cushion installation and information sheets