Orca Cycle Lane Separator
The "Orca" is a standalone cycle lane product providing a cost effective solution, it has distinctive white markings which are moulded in at time of manufacture. This offers high visibility, longevity and is available with Zig Zag or Tip Toe options and colour Black
The Orca Cycle Lane Separator is designed to provide light segregation as a stand alone product. The Orca provides protection to cyclists offering a concave profile for safety and a half battered profile which is a familiar kerb face to drivers.
The Orca is designed to be placed within the cycle lane and positioned up to the white marking which highlights the edge of the carriageway. The product is classed as a kerb and must not sit on the line otherwise this would conflict with current TSRGD guidelines.
Typical spacing are from 2.5mtr and up to 10mtr depending on the application or location.
Complete System
Manually handled with no infill required and relocatable
Clever Design
Half Battered Kerb face on the vehicle side to deter drivers and a cycle friendly concave face on the cycle side to protect cyclists
Markings
Moulded in markings for high visibility and longevity, choice of markings with 'Zig Zag' and 'Tip Toe' styles
Easy Installation
Installed up to 75No. per day (with a 2m gap that is over 215 metres covered)
Minimum Disruption
To users and the public
Surface Mounted
Bolt down with no excavation and no spoil
Environment
Made from recycled rubber in the UK
Orca
Technical Information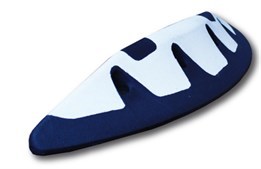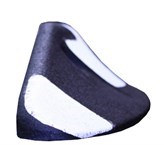 | | | |
| --- | --- | --- |
| Model | ORCA Zig Zag | ORCA Tip Toe |
| Colour | Black/White - Zig Zag | Black/White - Tip Toe |
| Fixings | 4 | 4 |
| Width | 200mm | 200mm |
| Length | 920mm | 920mm |
| Height | 100mm | 100mm |
| Weight | 6.5kg | 6.5kg |
Frequently asked questions
Can't find the answer you're looking for? Reach out to our customer support team
Method Statement
Download our Orca installation and information sheets