Greenwich WandOrca
The Greenwich WandOrca offers narrow vertical and horizontal measures integrated into one product, combining a Pole Cone installed every 1 metre or a glass reflective dome. This product can be used in multiple applications from 1.5mtr long upwards
Cycle Lane Products
Greenwich WandOrca
The WandOrca combines vertical Jislon Pole Cones (Wands) with reflective TSRGD markings, together with horizontal rubber modules. This is ideal for segregation over longer distances where vehicle speeds may be higher.
The WandOrca also offers a rubber bung with a reflective glass dome which can be used instead of the Jislon Pole Cone.
Spacings for the Greenwich Wand Orcas will depend on location and application but typically 10m to 25m. However they can be spread to allow for cleaning vehicles to access the cycle lane, but typically 10m to 25m.
Jislon Pole Cones are available in 800mm high or 1000mm heights, colour Black with TSRGD reflective banding and offer a NSE fixing for quick installation.
Made from recycled rubber in the UK.
Greenwich WandOrca
Technical Information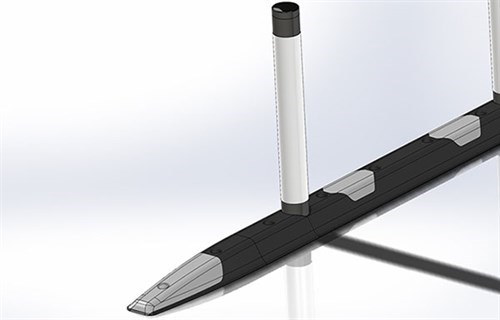 | | | |
| --- | --- | --- |
|   |   |   |
| Model | WandOrca End Section | WandOrca Middle Section |
| Colour | Black/White (Red, Grey or Granite Grey) | Black/White (Red, Grey or Granite Grey) |
| Fixings | 3 x per end | 4 x per middle |
| Width | 175mm | 175mm |
| Length | 750mm | 1000mm |
| Height | 80mm | 80mm |
| Weight | 7.0kg | 10.5kg |
Frequently asked questions
Can't find the answer you're looking for? Reach out to our customer support team
Method Statement
Download our Greenwich WandOrca installation sheet