One Piece WandOrca
The One Piece WandOrca is an addition to the existing WandOrca range, but providing a 1mtr length which combines one Jislon Pole Cone. This small version is ideal for minimal space or quick and easy installation of new pop up cycle lanes providing a permanent or temporary solution
Cycle Lane Products
One Piece WandOrca
The One Piece WandOrca is an addition to the existing WandOrca range, but providing a 1mtr length which combines one Jislon Pole Cone. This small version is ideal for minimal space or quick and easy installation of new pop up cycle lanes providing a permanent or temporary solution.

The Jislon Pole Cone has TSRGD markings, together with horizontal rubber modules. This is ideal for segregation over longer distances where speeds may be higher.
The One Piece WandOrca also offers a rubber bung with a reflective glass dome which can be used instead of the Jislon Pole Cone. Spacing's for the One Piece WandOrca will depend on the location and application but typically 5m to 10m.
Jislon Pole Cones are available in 800mm high or 1000mm heights, colour Black with TSRGD reflective banding and offer an NSE fixing for quick installation.
Environmental Benefits
Manufactured from recycled rubber for the One Piece WandOrca and Polyurethane for the Jislon Pole Cones these provide a passively safe product. Both of these products are able to absorb energy on impact without cracking or fracturing, unlike some alternative materials which might cause injury, punctures on a vehicle or cycle tyre.
Innovative design to provide horizontal and Vertical segregation measures.
Manufactured from Recycled rubber providing tough and safer on impact, reducing risk of injury.
Suitable for manual handling with no mechanical lifting required.
Surface mounted minimising disruption with no spoil and reduced exposure to risk.
Short lengths providing quick & easy installation.
High visability markings on both products, EN12899 Certified for Jislon Pole Cones.
Unique fixing with Stainless Steel screw, washer and super tough nylon plug, make for a durable.
Low carbon footprint, with recycled material and low energy manufacturing process.
One Piece WandOrca
Technical Information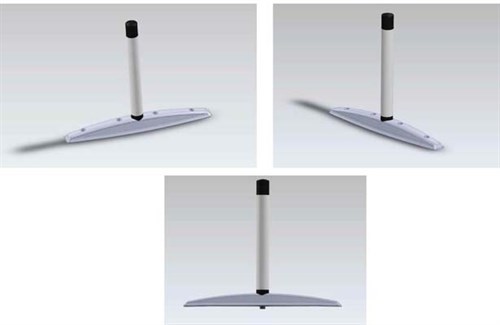 | | |
| --- | --- |
| Model: | One Piece WandOrca |
| Colour: | Black With White Reflective Markings |
| Fixings: | 4 Fixings Per Unit |
| Width: | 175mm |
| Length: | 1000mm |
| Height: | 80mm |
| Weight: | 7.2kgs |
Frequently asked questions
Can't find the answer you're looking for? Reach out to our customer support team
Method Statement
Download our One Piece WandOrca installation sheet