Jislon TSRGD Highway Pole Cones
Jislon TSRGD Pole Cones are Passively Safe, Highways England approved and can be used on roads 70mph or less, tested to rebound over 1,000 times reducing maintenance costs and available in various options. Available in Colour Orange or Black with TSRGD banding also known as "Wands", 800mm or 1mtr high
Passive Safety
Jislon TSRGD Highway Pole Cones
Jislon Highway Pole Cones offer durable solutions that can be installed quickly and last for a long time. Ø 80mm and height 1000mm (NS and NSE).
Easy Installation
Quick and easy to install and can be swiftly relocated.
Low Maintenance
Reducing the need of costly traffic management.
Rebound
Crash friendly designed to rebound 1,000 times.
High Visibility
Improves safety at hazardous locations.
Flexibility
Suitable for use in many applications.
Jislon TSRGD Highway Pole Cones
Technical Information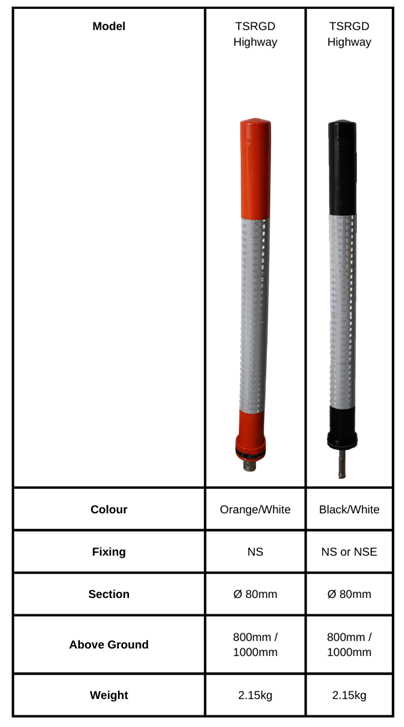 **Please call to check stock and availability.
Frequently asked questions
Can't find the answer you're looking for? Reach out to our customer support team
What is the difference between a NS and NSE Fixing on Jislon Posts?
NS Fixings
Stronger fixings for High speed Roads
Can be removed
Has a locking Washer Rubber Cap available
Can be fitted on decking to a depth of 70mm
NSE Fixings
Quick to install 5-10 minutes per post
More Temporary
Grub Screw available for relocation
Cheape
What does TSRGD mean in Jislon Pole Cones?
The Traffic Signs Regulations and General Directions (commonly abbreviated to TSRGD) is the law that sets out the design and conditions of use of official traffic signs that can be lawfully placed on or near roads in England, Scotland, Wales, and the Isle of Man. Click Here to see the pole cones.
Method Statement
Download a copy of our NS and NSE options installation sheet and our TSRGD information sheet