Swindon Borough Council's 'School Streets' Scheme
LOCAL AUTHORITIES
Swindon Borough Council's 'School Streets' Scheme
Rediweld Traffic Products were delighted to be part of this innovative trial with Swindon Borough Council.
Swindon Borough Council trial a 'School Street' on the section of Staldon Road adjacent to East Wichel Primary School in Swindon, as part of the School Safety Environment Zones scheme. The aim of School Streets is to create a traffic free zone outside schools to provide families with the space they need to get to school safely, in the hope that it will encourage more children to walk, cycle or scoot to school. Outside East Wichel Primary School, traffic will be prohibited from entering the street from 8.15 and 9.30 am and 2.45 and 3.45pm, except for permit holders.
The trial School Street will be in place for up to 18 months, with a formal consultation taking place during the first six months. At the end of this period, Swindon Borough Council will review the trial and decide whether the scheme should be made permanent or not. More information on School Streets, including FAQs can be found at www.swindon.gov.uk.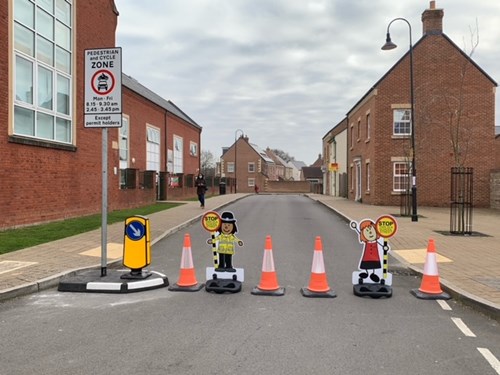 Our RediPave Traffic Islands are an ideal option for high traffic areas with the rubber material reducing any potential damage to car tyres. The Islands are also quick and easy to install, requiring no excavation and no spoil. This particular scheme was implemented within 1 - 2 hours of being on site.
The RediPave Traffic Islands can be easily used with surface mounted or excavated posts with relevant signage. This scheme incorporated an excavated post which allowed the RediPave Traffic Island to be easily implemented around the post.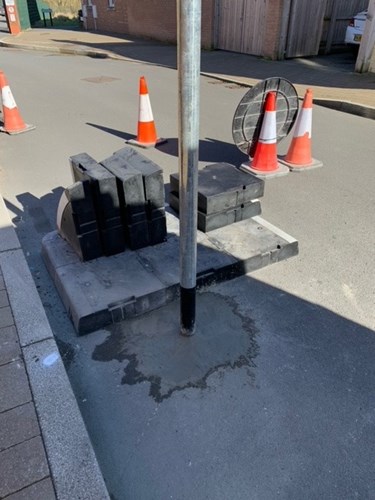 With the encouragement of LTN/120 cycling and walking, low-traffic neighbourhoods and liveable neighbourhood schemes our Innovative recycled rubber products have been able to offer various solutions, such as RediPave Traffic Islands for school streets and road closures, surface kerbing for pavement widening, bus stop seating areas, planters and children's play areas and the light segregation products for cycle lanes which as the number one manufacturer have already proved to be successful on many locations throughout the UK.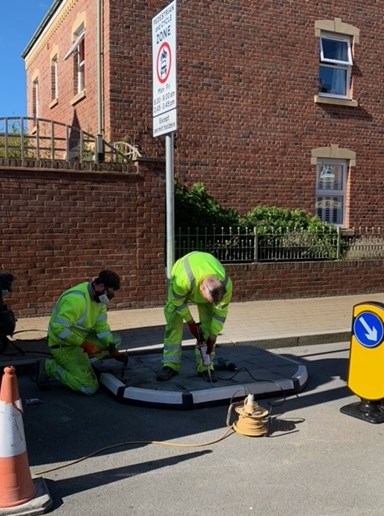 I would like to thank all at Rediweld, Jeanette Holder, all the Office staff, the installation crew, for their excellent work and support they provided us during the most challenging times of 2020 and early 2021 in making this scheme achievable.