Rediweld Greenwich WandOrcas used to Protect Key Active Travel Route
LOCAL AUTHORITIES
Gloucestershire County Council uses Greenwich WandOrcas to Shield Vulnerable Cycle Lanes
We were delighted to work with Gloucestershire County Council to install our Greenwich WandOrcas in this excellent cycle lane scheme on London Road in Gloucester. The WandOrcas have been installed to prevent vehicles from parking on cycle lanes outside local amenities. As a result, cyclists can use the cycle lane safely. The new WandOrcas now protect this key active travel route for all users.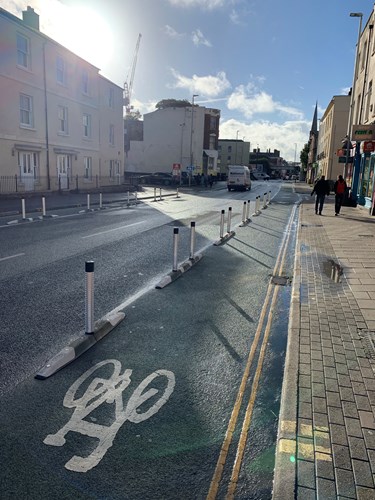 Our Cycle Lane Products are designed to provide physical measures that reinforce standard signs and road markings for cycle lanes.
The Greenwich WandOrca is a popular product that offers both horizontal and vertical measures integrated into one product. A black and white modular design, the WandOrca is available with either a Jislon Pole Cone or a reflective glass dome and is ideal for both high and low-speed environments. 
Working closely with the senior traffic engineer, Rediweld advised on the most effective configuration and scheduled the works during the autumn half-term to minimise any traffic disruption along this busy route. The scheme was installed in just one day by Rediweld's experienced installation team and was open to users later the same day.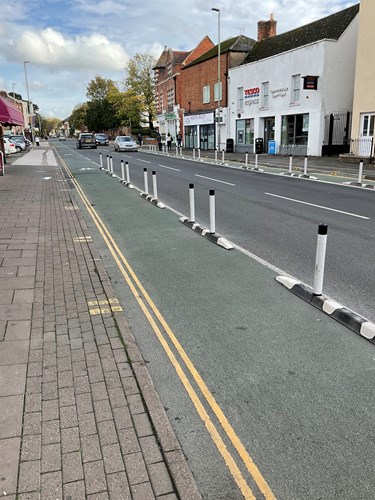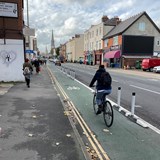 In 2020 Gloucestershire County Council secured government funding to install continuous cycle lanes on the busy B4063 London Road into Gloucester city centre. To help keep the lanes clear all parking and loading bays were relocated into side streets, 24 hour restrictions were introduced and the cycle lanes made mandatory. Despite these measures no amount of parking enforcement could deter some people from parking directly outside their favourite takeaway, forcing cyclists out into the path of buses and other traffic. Having used Rediweld's Orcas successfully in Cheltenham, council officers opted to install these outside shops and takeways on both sides of the road where the parking problem was greatest. The effect was immediate, with the wands providing a 'self-enforcing' solution to the parking problem and also soft segregation. Feedback from cyclists and local stakeholders has been very positive.