TakPave Tiles
TakPave tactile surfaces for the guidance of the visually impaired, TakPave requires adhesive
Inclusive Mobility
TakPave Tiles
Rediweld offers a comprehensive range of tactile surfaces for the guidance of the visually impaired. Tiles are surface mounted with TakPave requiring adhesive.
DfT Guidance
Conforms with "Guidance on the use of Tactile Paving Surfaces".
Compliance
Assists providers to  achieve DDA Compliance.
Material
Unique mineral filled elastomers formulated for durability and abrasion resistance.
Surface 
Supplied in 400mm square tiles that can be adhered to most surfaces.
Patterned
Cross hatched surface pattern for greater skid resistance.
Colours
Available in buff, grey, black, blue, yellow and red (controlled crossing only).
TakPave
Technical Information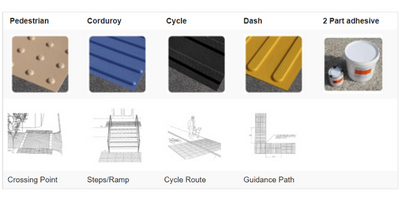 All tiles are 400mm²
All tiles are nominally 2.5mm thick

* RED is only suitable for controlled crossings using Pedestrian Dot.
When install TakPave it is important to follow the information provided by the Department of Transport "Guidance on the use of Tactile Paving Surfaces".
Frequently asked questions
Can't find the answer you're looking for? Reach out to our customer support team
How many tactiles do I required per m²?
Method Statement
Download our TakPave installation and information sheets